by Michael McArthur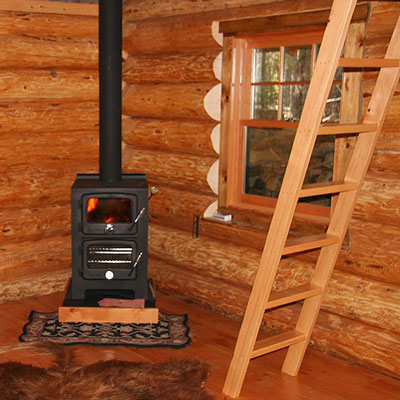 Coating interior log walls with a
transparent varnish
has numerous merits worth considering. The psychological difference between non-coated and varnished logs is dramatic. Varnishing the log surface will enhance the depth of the wood grain and enliven your living space.
Leaving aside the positive aesthetic benefits, there is also a health benefit to sealing your log walls. Wood is a porous material and as a result, it has a tendency not to clean or dust well if left uncoated. If you are an allergy sufferer, dust mites and other airborne particles will cause allergic reactions. Log walls are an ideal location to accumulate and hold these various irritants. Because of its porous nature, cleaning a bare wood surface with a detergent solution will raise the wood grain and further aggravate its magnetic attraction to airborne particles. By filling the wood pores with a varnish type coating, a slicker, easier to "dust and clean" surface is created thus making the control of microscopic allergens on your log walls more effective.
There are primarily two types of varnishes that can be used on log walls:
solvent-based
or
water-based
. The major advantage of a water-based varnish over the traditional solvent-based type is its lower fumes. When working indoors, the harsh fumes and odor of a solvent-based varnish can be quite unpleasant, especially when good ventilation is not possible. Also, new environmental regulations are slowly phasing most of these solvent-based varnishes off the market. It should be noted that even water-based varnishes do have differing degree of fumes, some having more than others. (
PolySeal
™ water-based wood varnishes are some of the lowest in the industry).
A minimum of two and usually three coats of a water-based varnish is required to insure an adequate seal of the wood pores. Additionally, by applying multiple layers of finish, a thicker film is created thus magnifying and increasing the depth and clarity of the wood grain. At the same time, it provides a smoother surface that is easier and more durable to clean. Water-based varnishes also dry faster so a project can be completed in much less time. The hardness of the coating will depend on the resins used. For maximum durability, a polyurethane resin used alone or in combination with hard acrylic resins is your best buy. On log walls, a flatter satin or matte finish is usually preferred in order to minimize the glare of indoor lighting, whereas a gloss finish tends to be too reflective.
A WORD OF CAUTION... Never varnish interior log walls that still contain excessive moisture in them, generally above 18%. The reason is that a varnish is a clear or transparent enamel type coating that is not very breathable, especially when two to three coats are applied. When the heat is turned on during cold weather, the warm interior log walls draw the moisture to their surface. If enough moisture is present in the logs, peeling of the coating may occur and/or molds will grow BENEATH the coating causing ugly discoloration. This can only be remedied by removal of the coating. A rule of thumb is to wait one year and through a heating season BEFORE applying a varnish to the interior log walls. Also, consult with the log manufacturer for feedback on this log moisture issue.
In conclusion, varnishing your interior log walls provides great advantages to the home dweller for reasons of appearance and cleanliness. It is an investment well worth the cost that will be recouped many times over in the years of comfortable living it will provide.
*Reprinted from Winter 1999 issue of Log Core Newsletter.

*Michael McArthur was manager of the Log Home Products Division of the Continental Products Co. Continental manufactures wood coatings for the log home industry including PolySeal™, a waterbased polyurethane/acrylic interior varnish.